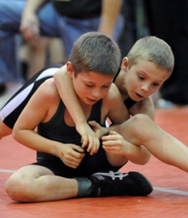 It's that time of the year again folks: Sarnia Wrestling's youth program begins in January.
Practices start January 16th, 2014.
Grades 1-6: Tuesdays and Thursdays 6:00-7:30pm
Grades 7-8: Tuesdays and Thursdays 7:30-9:00pm
As always, practices are in Room 99 at SCITS. For more details, see our facilities page.
Cost to join is $150. This covers: Sarnia/Bluewater Wrestling Club membership, Ontario Amateur Wrestling Association membership, SBWC Club T-Shirt, Awards Dinner Ticket. All coaches are certified through the Coaches Association of Canada and Sport Canada.
For more information, contact John Burke – Head Coach of St. Patrick's Catholic High School. john.burke@sccdsb.net Or see us on Facebook