The Sarnia Bluewater Wrestling Club is a registered non-profit organization that exists thanks to the sponsorship of people like you. If you'd like to sponsor any of our athletes or annual events, please reach out to Coach John Burke (john.burke966@gmail.com – 519.466.7403).
Special Thanks
Carpenters Union Local 1256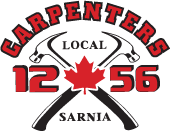 We would like to give a special thanks to the Carpenters Union Local 1256 in Sarnia, for their many years of ongoing support both on and off the mat. Your sponsorship has helped our athletes travel to competitions across the province, across the country, and even across the world. Thank you.