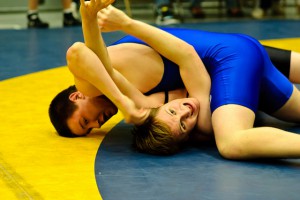 The 2016 Sarnia Invitational Wrestling Tournament is coming up quickly. Coaches: register early to guarantee your spot.
The tournament has a new location: hosting at St. Patrick's Catholic High School (formerly St. Christopher's) at 1001 The Rapids Parkway, in Sarnia.
New Location – 1001 The Rapids Parkway
Tournament Details:
Start Time: 9:30 a.m. on four mats to conclusion.
Eligibility: Wrestlers currently enrolled in high school.
Divisions:
1. Novice Boys
2. Open Boys
3. Novice Girls
4. Open Girls
Novice is grade 9 or 10 in their first year of competitive wrestling.
Tournament size is capped 300 wrestlers.
Coaches can reserve their spot with expected numbers by January 9, 2016
Weight Classes + 1 kg allowance.
Boys: 38, 41, 44, 47.5, 51, 54, 57.5, 61, 64, 67.5, 72, 77, 83, 89, 95 kg, 130. Plus 1 kg.
Girls: 38, 41, 44, 47.5, 51, 54, 57.5, 61, 64, 67.5, 72, 77, 83, 115. Plus 1 kg.
Match time: 2x 2 min periods.
Draw: Double elimination or round-robin for weight groups five or less.
Entry fee: $15.00 per wrestler. Please make cheques payable to Sarnia Wrestling. Entry fees to be paid prior to start time. Receipts will be available.
Awards: Medallions to the top 3 competitors in each weight class. Top four placings to count towards team score (1st – 10 pts, 2nd – 7 pts, 3rd – 5 pts, 4th – 3 points).
Weigh-ins: Coaches will weigh-in own team at their site and e-mail entries by deadline, Wednesday Jan 13, 8:00 pm. The draw will be final by Friday Jan 15, 8:00 pm.
Entries must use the attached spreadsheet entry form:
1. Coach/Supervisor's name, team, and contact info (your phone number).
2. Wrestler's name division and weight class, e.g., Novice Boys 38 kg.
3. Email entries to john.burke966@gmail.com
Red-dot Weight Check: There will be a random red-dot weight check for this tournament. An athlete with a red-dot beside their name on Wall chart must weigh-in for random weight check as per OAWA guidelines.
Draw confirmation: Coaches are to check the draw by 8:30 am Saturday for any errors. "No shows" will be treated as scratches. No changes to the draw after 8:45 am (Pairing master's discretion).
Coaches meeting: There will be a coaches information meeting 9 am after final draw confirmation.
Trainer: There will be a trainer on site. Those requiring taping must bring their own supplies.
Hospitality Room: There will be a hospitality room for coaches, officials and volunteer staff.
Skin check: Coaches or medical personnel are to conduct a skin-check of all team members at home weigh-ins. Any wrestler with a skin rash/lesion or condition will not be permitted to compete. The tournament convener has the authority to pull any wrestler out of the tournament (before or during) if he suspects any skin condition on any wrestler. Skin checks will be conducted on mat during the first round of matches.
Results will be posted on: www.sarniawrestling.ca
Concessions: Food and refreshments will be available for purchase all day.
Hotel Information is available at: TourismSarniaLambton.com
BOOK EARLY: Hotels fill up fast for the Silver Stick Finals.
Send Entries to John Burke john.burke966@gmail.com
Contact: John Burke 519 466-7403 cell
Attachment: Sarnia Invitational Entry Form XLS
Attachment: Sarnia Invitational 2016 Brochure