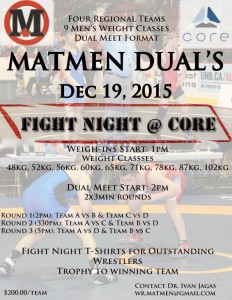 It's important to keep training hard through the winter break. The bulk of the season starts up fast in January. To help all of our high performers, the OAWA has collaborated with Matmen KW and Turner Fenton to put together an amazing weekend.
The weekend starts at CORE on Saturday, December 19th at 10am with a 2-hour on-mat clinic with the Korean national team. Lunch is served at noon, and dual-meet weigh-ins happen at 1. The FIGHT NIGHT @ CORE Dual Meets happen from 2pm through 6:30pm, with three rounds of dual-meets.
The next morning (Dec 20), the camp continues at Turner-Fenton in Brampton with another on-mat session with the Korean team.
More details on the Ontario High Performance program will be available at the OAWA Ontario High Performance Website.
If you're interested in going on this trip, contact Coach Burke as soon as possible.