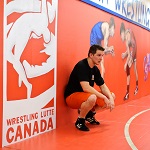 The Ontario Cadet/Juvenile Championships are happening on February 6th-8th in Brampton, ON.
If you would like to compete, contact coach John Burke and/or your high school coach ASAP.
This is one of our best chances to warm up for the LKSSAA, SWOSSAA and OFSAA season, competing against the best and the brightest that the province has to offer.
If you're looking to compete, or want to watch your favourite Sarnia-Bluewater Wrestlers, check out the details attached below:
Attachment: 2015 Brochure for Ontario Cadet/Juvenile Championships
Attachment: 2015 Full Details for Ontario Cadet/Juvenile Championships