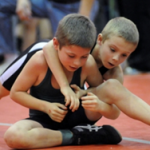 Youth wrestling begins on Thursday, January 15th at 6:00pm in Room 99 of SCITS. Wrestlers of all ages are welcome to join for fun, friendship and fighting spirit. If you have any questions, please contact coaches John Burke or Jeff Vanderslagt.
As of this Thursday, our regular high-school training will continue at a later time, joined by our grade 7 and 8 wrestlers. Please consult the schedule below and in the sidebar.
As the youth season starts, a reminder regarding cancellations: For all cancellations, check our Facebook Page. In general, if the buses were cancelled due to weather, then wrestling was too.
Training Times: Session Starts Jan. 15, 2015
Grades 1-6 Tuesday and Thursdays 6:00 to 7:30
Grades 7-8 Tuesday and Thursday 7:30 to 9:00
Location: Sarnia Collegiate (SCITS) Room 99
Cost: $150
Includes membership to Sarnia Wrestling Club and the Ontario Amateur Wrestling Association, T-Shirt and Awards Dinner
Our coaches are certified through the Coaches Association of Canada and Sport Canada
For more information: